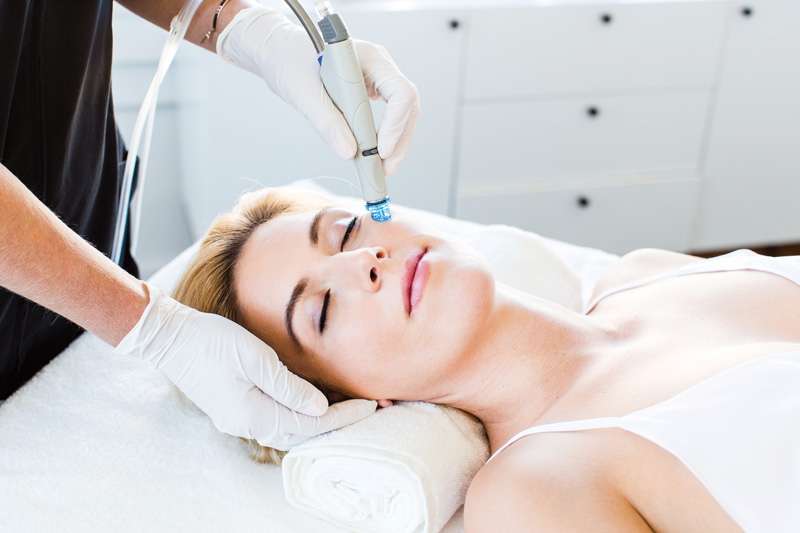 HydraFacial Treatment
HydraFacial treatment at The Canmore Clinic is the treatment for the health and vitality of your skin. It perfectly complements our injectable treatments, which are fantastic for replacing and maintaining lost volume and diminishing and banishing fine and deep lines.
The HydraFacial offers something different. Using this medical technology, we have the ideal platform to give you the deepest, most beneficial of facials, with no downtime.
how we work with HydraFacial Treatment
We start with a manual opening of the thoracic lymph glands—gentle pressure to the neck, upper chest, and shoulders. The opening of the thoracic lymph means enhanced draining of the facial lymph nodes. This is the area that is responsible for removing toxins. By doing this, there will be no post-facial treatment puffiness. This is followed by a manual cleanse to remove any makeup, oils, and sebum.
Next, we apply the HydraFacial device. Our expert Lead Facial Aesthetic Therapist will move through the next phases of the HydraFacial experience using the vortex technology.
Cleanse and Exfoliation
Allowing a personalised appropriate pressure vacuum to remove debris, dead skin cells and impurities using Activ 4 (Glucosamine HCL solution to soften skin, aids firming and smoothing of lines) and to exfoliate and resurface the skin.
Hydrafacial cleanses your skin deeply while softening sebum and impurities to aid in extractions. It assists in dislodging dead skin cells for exfoliation and provides residual hydration that aids in firming and smoothing the appearance of fine lines. It's suitable for all skin types and will leave your skin visibly rejuvenated.
Skin Peel
A chosen skin peel (bespoke treatment prescribed by your therapist) is penetrated deep into the skins' layers, softening the skin preparing it for the Extraction and Hydration step.
Extraction and Hydration
Using the patented spiral design instrument tip allows for painless but deep extractions of the pores, deep-lying debris, and again resurfacing of the skin by removing dead skin cells. The skin's PH is neutralised post Extraction to stabilise the activity of the peel. The vortex effect easily dislodges impurities and simultaneously delivers a specialist product. This step is BetaHD (a multi-action solution with salicylic acid) delivered to the tissues to moisturise and quench the skin – leaving it intensely radiant.
Fuse and Protect
The skin is saturated with Antiox solution. Antiox includes detoxifying antioxidants, firming peptides (protecting against free radicals), deeply moisturising hyaluronic acid and an enzymatic skin brightener. All of which come together to nourish, intensely hydrate and maximise the skin's glow.
LED light therapy (Photobiomodulation)
30 minutes of red and near infra-red light therapy to improve the healing of soft tissues (increased collagen and elastic synthesis) and reduce inflammation.
Signature Treatment £95
Deluxe Treatment £150
Platinum Treatment £175
Package of 6 treatments for 5
Package of 12 treatments for 10